WINESHOP | TAVERNA DEI BARBI | MUSEO DEL BRUNELLO
OPEN 10AM – 5PM
• Saturday, December 17
CLOSED
• Sunday, December 18
OPEN 10AM – 5PM
• Monday, December 19
• Tuesday, December 20
• Wednesday, December 21
• Thursday, December 22
• Friday, December 23
CLOSED
• Saturday, December 24
• Sunday, December, 25
• Monday, December 26
OPEN 10AM – 5PM
• Tuesday, December 27
• Wednesday, December 28
• Thursday, December 29
• Friday, December 30
CLOSED
• Saturday, December 31
CLOSED
• Sunday, January 1, 2023

Taverna dei Barbi Restaurant will be closed from 2023 January 1 to 2023 March 3 (included) for Seasonal Closures. Taverna dei Barbi will open again on Saturday 2023 March 4 for lunch.
The Wineshop and the Brunello Museum will be closed on Saturdays and Sundays in 2023 January till March. Barbi WineShop will open 10AM – 1:30PM | 2.30PM – 5PM from Monday to Friday for shopping and for guided tours (11:30AM | 3PM). Advance booking is required.
CLOSED
• Friday, January 6, 2023
CASEIFICIO DEI BARBI
OPEN 9AM – 1PM
From Monday to Friday. Closed on Public Holidays.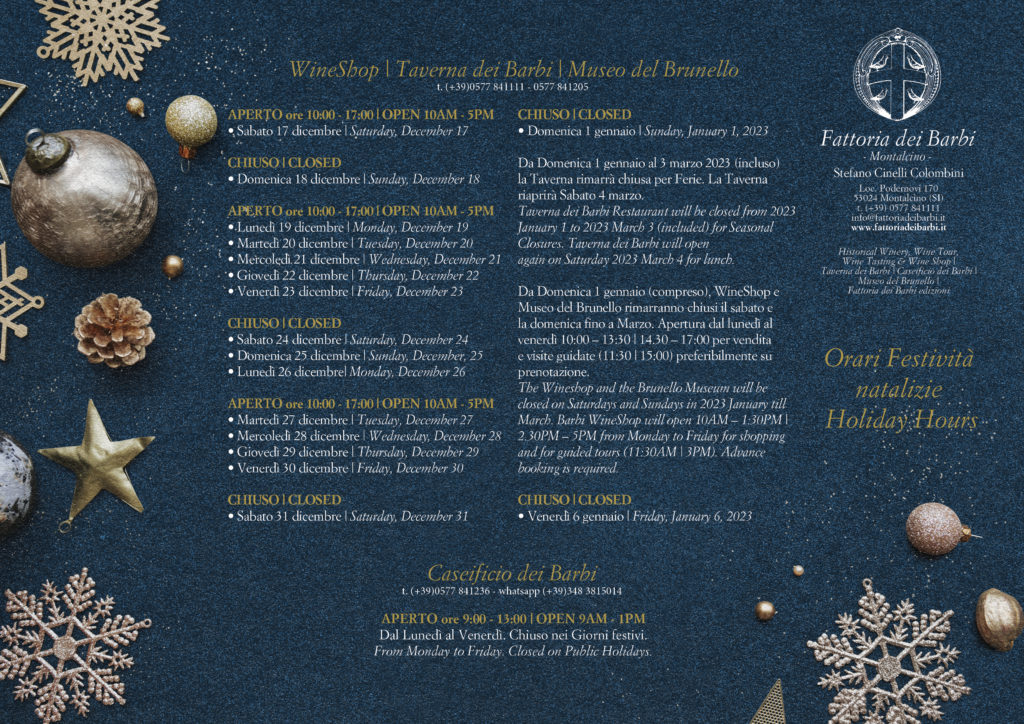 Info: info@fattoriadeibarbi.it – T. (+39)0577 841111 | 0577 841205